Manufacturer High Performance Explosion Proof Industrial Ultraviolet Flame Detector
Description:



AS-E301-UV detector provide a new generation of fire detection capability and technical standard. The flame detector which adopt a specially designed solar daylight UV sensors , it can distinguish the real flame radiation and interference sources effectively and reduce the impact of environmental factors on detector extremely by means of the built-in 16-bit microprocessor and proprietary signal algorithm processing .The detector can set 5 different sensitivity levels in order to meet more needs in different location.We collected a large number of experimental data through market research and customers' feedback. We have made a big improvement based on its existing in the hardware circuitry and software algorithms.




Features:



* Built-in16-bit high-speed, low-power, high-performance, high-precision data processing chip.
* Adopt patented solar-blind UV sensor.
* It has multi-level sensitivity in order to meet more occasions.
* Detection angle can be able to reach to 120 Degree.
* Detection range can be able to reach to 35m.
* The perfect algorithm combines optimally the flame detection and false alarm capabilities.
* Detector is fit to a variety of fuels.
* Apply to heavy industry applications.
* Explosion-proof designs can be used in hazardous area of industrial sites.
* Low maintenance cost, easy to update and improve.

Parameters:
| | |
| --- | --- |
| Product Name | Manufacturer High Performance Explosion Proof Industrial Ultraviolet Flame Detector |
| Operating Voltage | 18-30VDC |
| Standby Current | |
| Alarm Current | |
| LED Indicator | Green (monitor),Red (alarm),Yellow (fault) |
| Wiring | 4 Wires |
| Ingress Protection Leve | IP66 |
| Relay Contact Output | N.O and N.C |
| Relay Contact Load | 3A@30VDC |
| Detection Angle | 120 degree |
| Detection Distance | 15-35m |
| Sensitivity Level | 1-5 |
| Operating Temperature | -10 to +55 Celsius Degree |
| Operating Humidity | ≤95% no condensing |
| Materials | Aluminium alloy, surface baking finish |
Dimension and Apperance: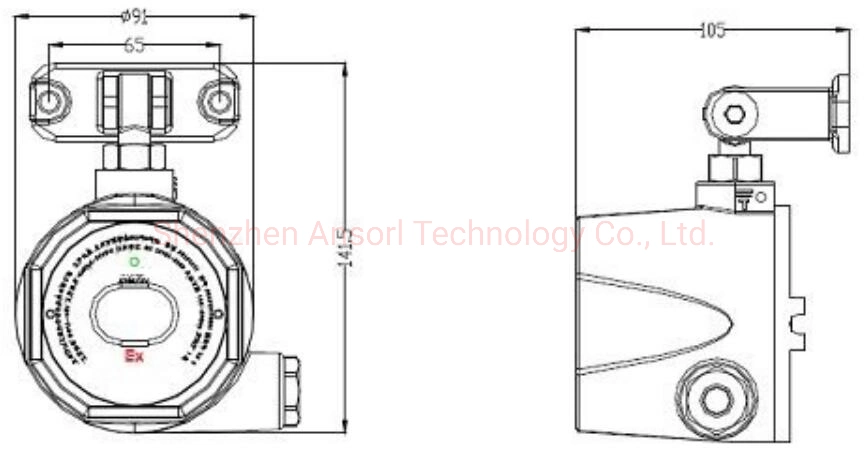 Detection Area Horizontally & Vertically: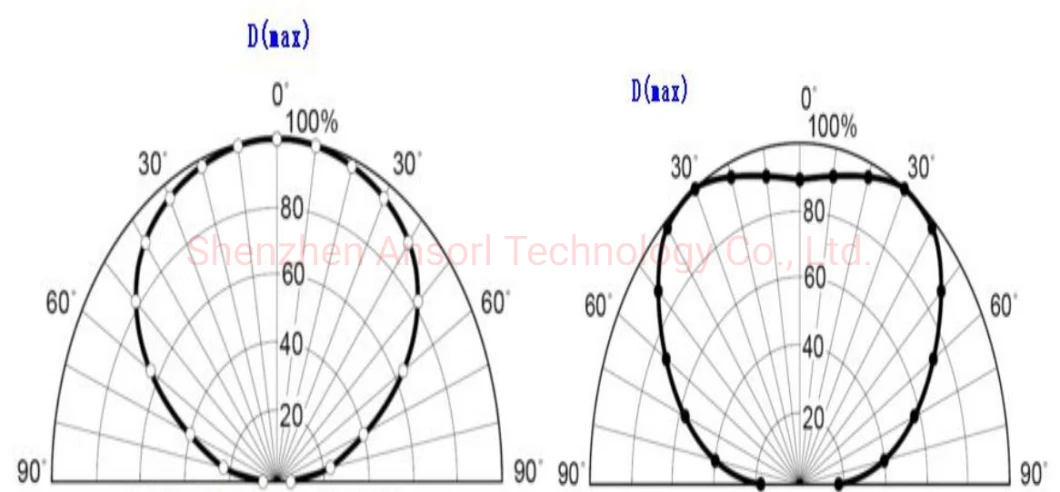 Installation Methods: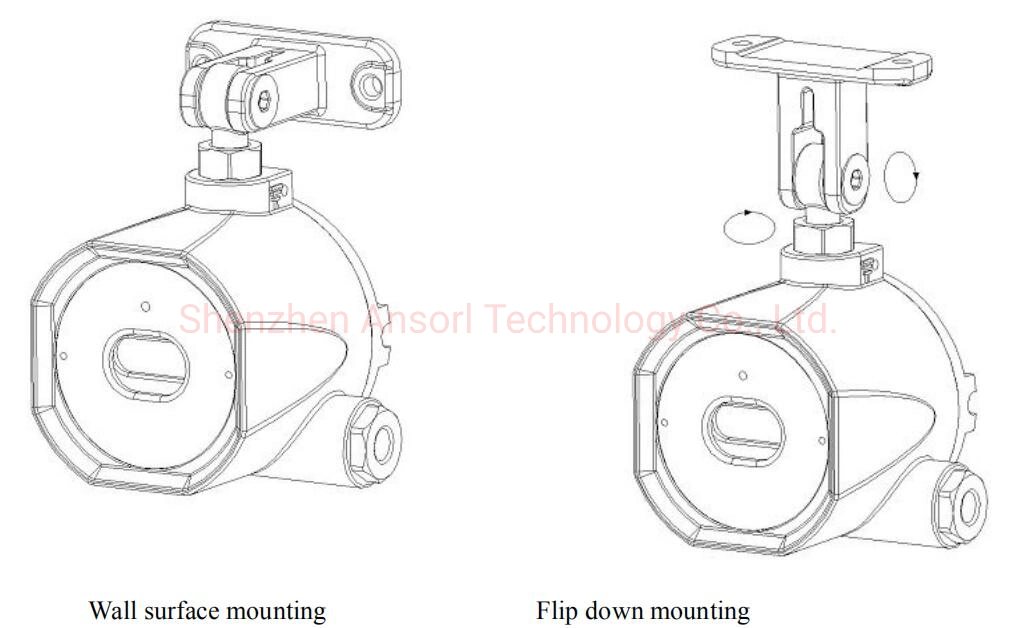 Wiring Terminals: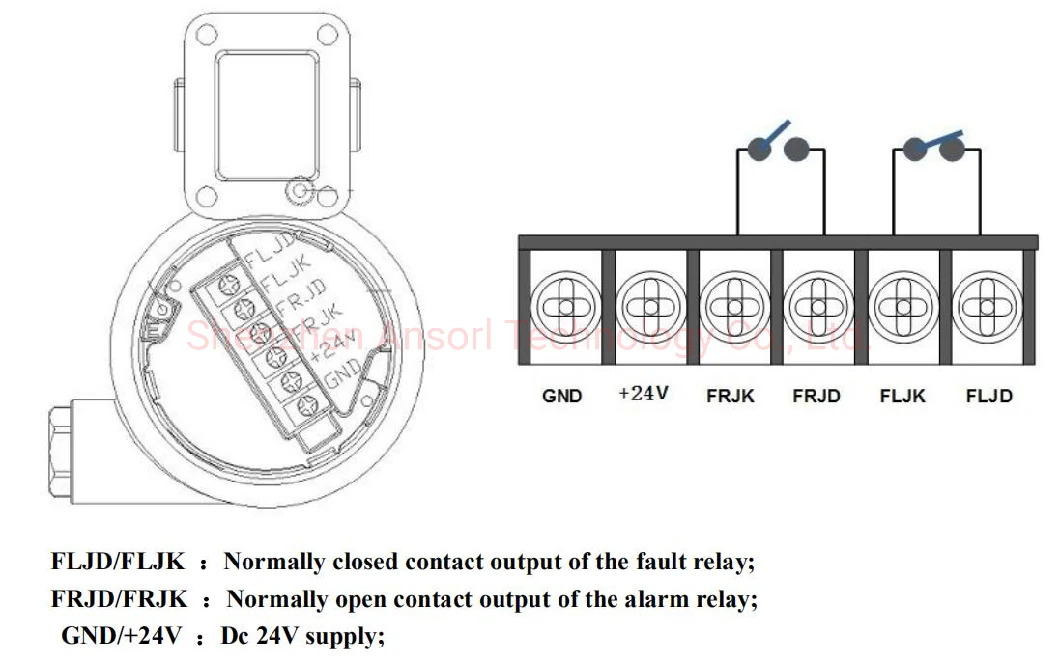 Pictures: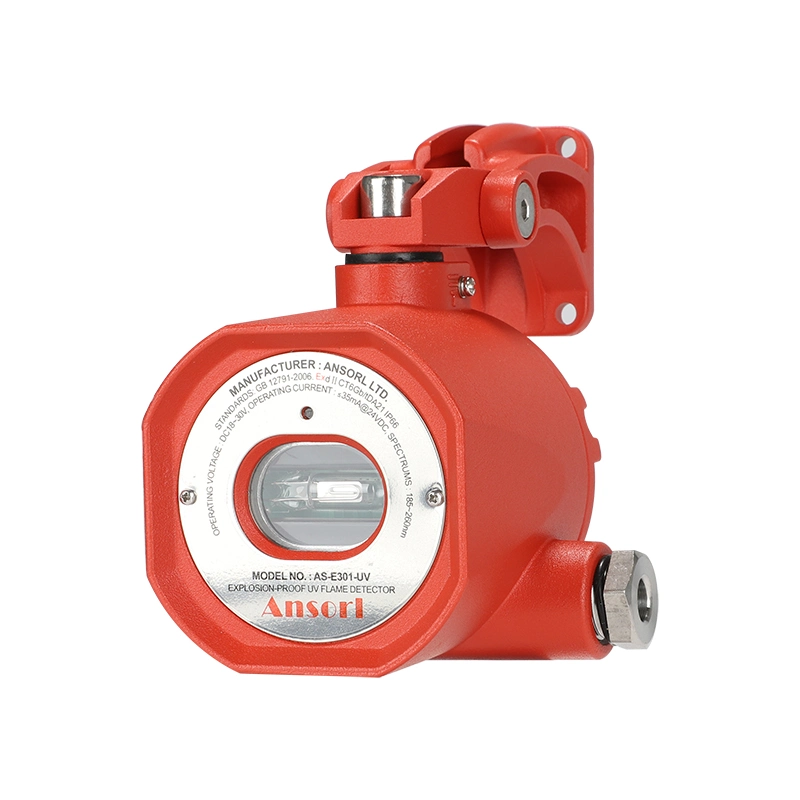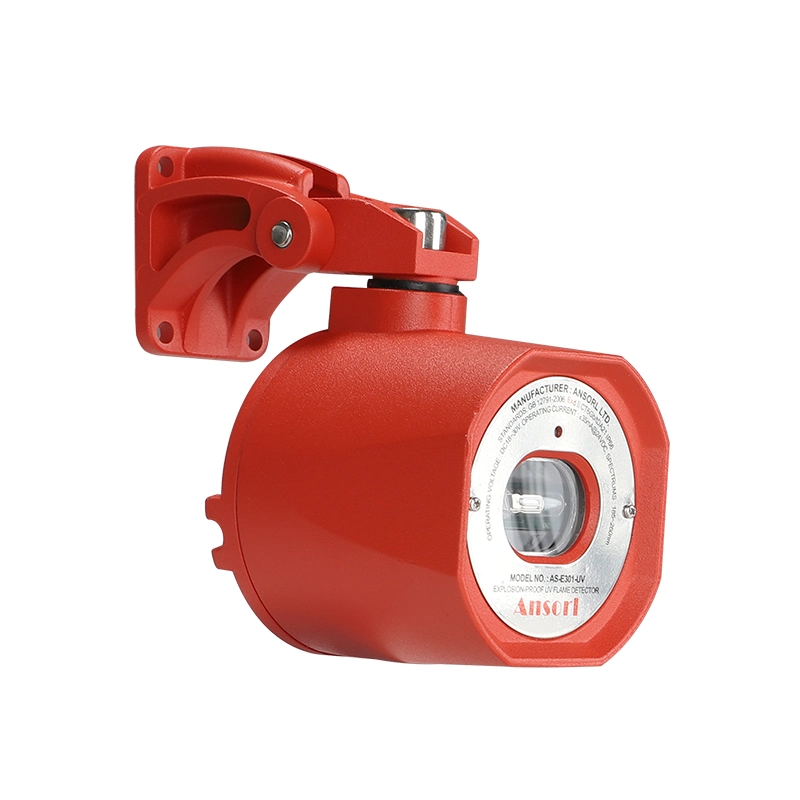 Related Models:



* AS-UFD: Conventional Ultroviolet Flame Detector
* AS-E301-IR2: Explosion proof Dual Infrared Flame Detector
* AS-E501-IR3: Explosion proof Triple Infrared Flame Detector
* AS-E501-UVIR2: Explosion proof Combined Ultraviolet and Infrared Flame Detector
Factory Corners
Workshop and Warehouse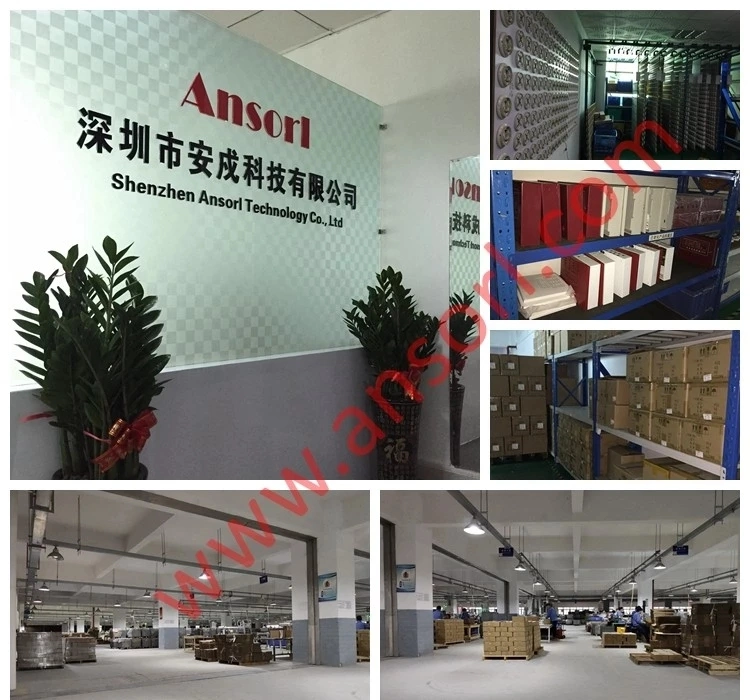 Mass Production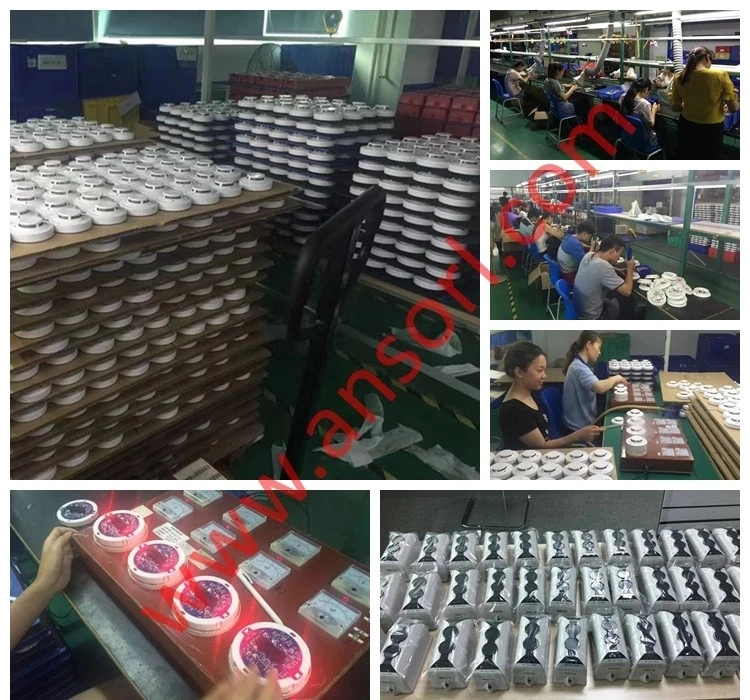 Package and Shipment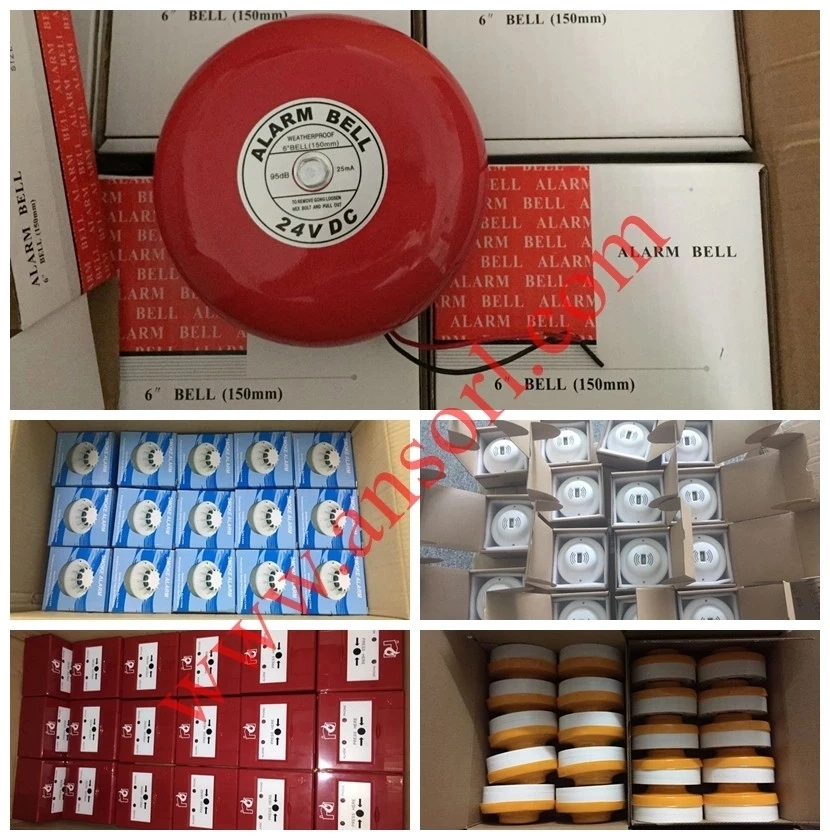 Certificates: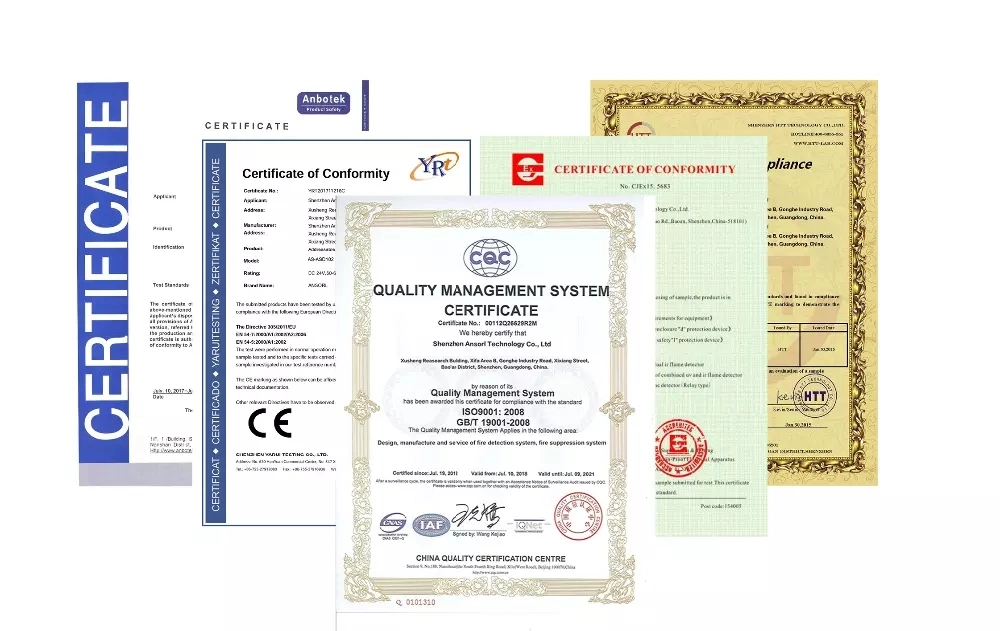 Who We Are ?

ANSORL TECHNOLOGY LTD is a building automatic control system and fire alarm system provider. Over the past years, We have always been dedicated to serving the diverse needs of our customers. Although we started out as a tiny engineering and manufacturing company in China and have grown into a global player in the international safety market, Ansorl continues to work hard to earn your trust and retain your confidence in our product line.

We focuse on providing advanced buidling automatic control system and fire alarm, fire protection system. Ansorl works harder to tailor our solutions to meet your needs.

Ansorl is an ISO 9001:2008 certified manufacturer with number of testing facilities. We are also planning to expand our manufacturing and testing facilities in China to ensure that our products and manufacturing practices continue to meet the highest standards.

We invite you to get to know Ansorl better. Experience the best fire alam technology and solution. We are convinced that you will find Ansorl superior to any other detector company in China. You'll see it in our facilities, in our people, and in the products that Ansorl makes. It's our uncommon commitment to excellence and quality, and to the automation and productivity of our customers.
What We Have ?
* Conventional and Addressable fire control panel
* Smoke, heat, gas, flame, beam detector
* Manual call point and pull station
* Audio/visual alarm, strobe horn
* Standalone battery operated fire alarm detectors
* Explosion-proof and weather-proof fire alarm devices
* FM200/CO2 gas extinguishing control system
* Other fire safety products
Why Choose Us ?
* Prompt Response.
* Standard Quality Control System.
* Sample & Customized Order Can Be Supported.
* Independant R&D / Manufacturing / Customer Service / Marketing Dept.
* Direct Control On Materials, Production Status, Quality Checking.
* Fast Delivery Time for Standard Products.
* State-of-the-art Technology and Models.
* Waranty Guarrentee.


FAQ:

Are you manufacturer ?
Yes, our associated factory has more than 10 years production management experience in fire alarm industry.

Do you provide samples ?
Yes, sample for quality test is understandable, tell us your interested models, we will prepare for your study.

How's your product quality ?
Our QC team responsible for the whole quality supervision during production and inspect the goods before shipment.
We've achieved the third party certificates ISO, CE, LPCB etc.

Where are your markets ?
Our customers are from worldwide, covering south/east Asia, south/east Europe, middle east, central/south America and the whole Africa etc.

What kind of shipping methods you choose ?
By international express (DHL, FedEx, UPS, TNT, EMS etc).
By train / by truck / by air / by sea.

How long can I get the goods ?
Normally it takes 3-8 working days. For customized items or bulk orders, it takes more than 15 working days.

Do you provide warranty ?
We provide 12 months warranty, if any item to be found in quality defects, we will provide replacement or repair services.
Send us your inquiry and get a quote !