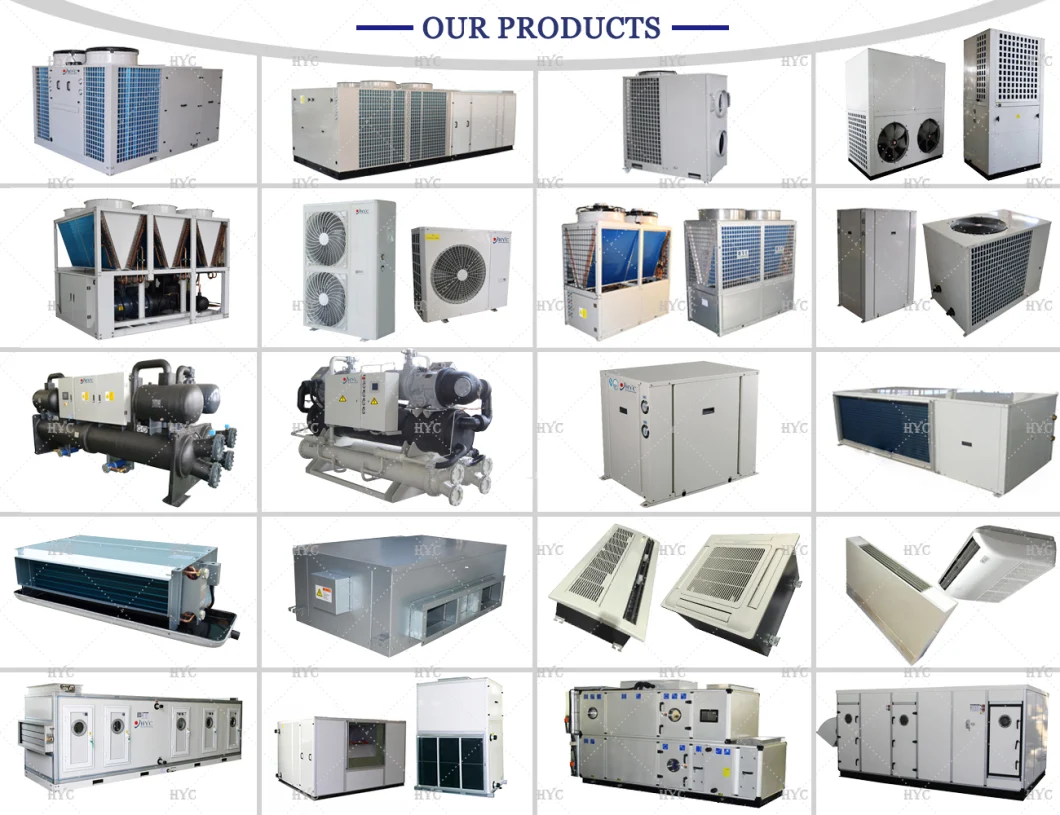 Sincerely welcome to visit our factory at your convience. Customer could witness their order production real conditions by online videos or photos at any time during production.

INTEGRAL DESIGN AND EASY INSTALLATION
The package rooftop has a integral design. It is supplied as a complete package ready for operation, with no extra controls or other items to be installed. The units have a single power point entry with simple connections.
Quick start-up is assured once installation is completed, as each rooftop unit is manufactured in an ISO9001:2000 listed facility to guarantee quality. All units are tested at the factory to provide reliable start up.
HIGHLY QUALITY COMPONENTS AND RELI
ABLE PERFORMANCE
All series rooftop pacakged units use high-effiency scroll compressor and high quality world known brand cooling parts, which ensures units' reliable performance.
STANDARD FEATURES
• Easily accessible system components
• Factory micro-programmed LED controller.
• Heavy duty mounting chassis for the whole unit with lifting holes
• BMS
• Anti-vibration mounting compressor and centrifugal fan
• Weather-proof, polyester epoxy powder electrostatic paint oven-baked finish for sheet metal and base frame
• Compressor, fan motor inner protect
• Treated anti-corrosion protection for coils (blue fins) for copper/aluminum coils condensor and evaporator
OPTIONAL
• Optional supply/return air configurations, optional bottom supply and return type.
• Copper fin condensor and evporator for some area need special anti-corrision
• Blygold paintting for condensor and evporator for some area need special anti-corrision
• Stainless steel body cover and drain pan
• Economizer with fresh, return air dampers and fresh air hood
• Control device for operation of outdoor units at low ambient temperatures
•
BMS
devices
•Tropical climate design
•Roof curb
•Pre-filter;secondary filter;hepa filter
•Hot water coil
•Electrical heater
Model

003

004

005

006

007

008

010

012

Nominal cooling capacity

kW

10.1

14.2

17.4

20.2

24.4

29.2

34.8

41.2

Nominal heating capacity

kW

10.4

15.0

18.0

20.8

24.8

30.4

36.0

42.5

Rated power input

kW

3.49

5.11

5.83

7.23

8.35

10.33

12.27

13.52

Power supply

/

380~415V / 3Ph / 50Hz

Compressor

Quantity

Nr.

1

1

1

2

2

2

2

2

Input power

kW

2.69

4.04

4.66

5.38

6.5

8.08

9.32

10.58

Input current

Amps

5.00

7.11

8.33

10

12.38

14.22

16.66

20.18

Type

/

Scroll

Evaporator section

Fan quantity

Nr.

1

1

1

1

1

1

1

1

Air flow

m3/h

1900

2800

3140

4150

4500

5500

6900

7500

Fan type

/

Centrifugal fan

Drive type

/

Direct drive (belt drive optional)

ESP

Pa

150

150

180

150

180

180

200

200

Condensor section

Fan quantity

/

1

1

1

1

1

1

2

2

Fan type

/

Axial fan

Unit dimension

Length

mm

1340

1583

1583

1921

1921

2073

2300

2533

Width

mm

991

991

991

1397

1397

1469

1626

1826

Height

mm

880

880

880

1078

1078

1001

1102

1167

Net weight

kg

200

210

220

340

360

380

700

750

Sound pressure levels

dB(A)

65

65

65

65

67

68

68

68
Model

015

020

025

030

035

040

045

055

070

Nominal cooling capacity

kW

52.4

71.0

86.0

97.0

124.0

140.4

158.0

188.0

240.0

Nominal heating capacity

kW

53.2

73.0

87.0

98.2

128.0

144.0

162.0

192.0

248.0

Rated power input

kW

19.04

25.26

30.4

34.5

45.8

50.52

55.4

70.4

86.2

Power supply

/

380~415V / 3Ph / 50Hz

Compressor

Quantity

Nr.

2

2

2

2

4

4

4

4

4

Input power

kW

13.74

18.26

20.7

24.7

32.24

36.52

41.4

49.4

65.4

Input current

Amps

25.8

32.56

38.04

49.8

59.28

65.16

76.08

99.6

110.96

Type

/

Scroll

Evaporator section

Fan quantity

Nr.

1

1

1

1

1

1

1

1

1

Air flow

m3/h

10000

14000

15000

16000

23200

26000

29500

32000

47000

Fan type

/

Centrifugal fan

Drive type

/

Belt drive (direct drive optional)

ESP

Pa

220

250

250

250

320

320

360

360

420

Condensor section

Fan quantity

/

2

2

2

2

4

4

4

4

4

Fan type

/

Axial fan

Unit dimension

Length

mm

2533

3400

3684

3790

5100

5800

5800

5800

5800

Width

mm

1820

2200

2200

2220

2239

2239

2239

2255

2235

Height

mm

1417

1590

1590

1614

1668

1728

1728

2028

2028

Net weight

kg

840

1240

1300

1356

1720

1900

2000

2200

2300

Sound pressure levels

dB(A)

69

70

70

70

78

78

81

81

84
Factory view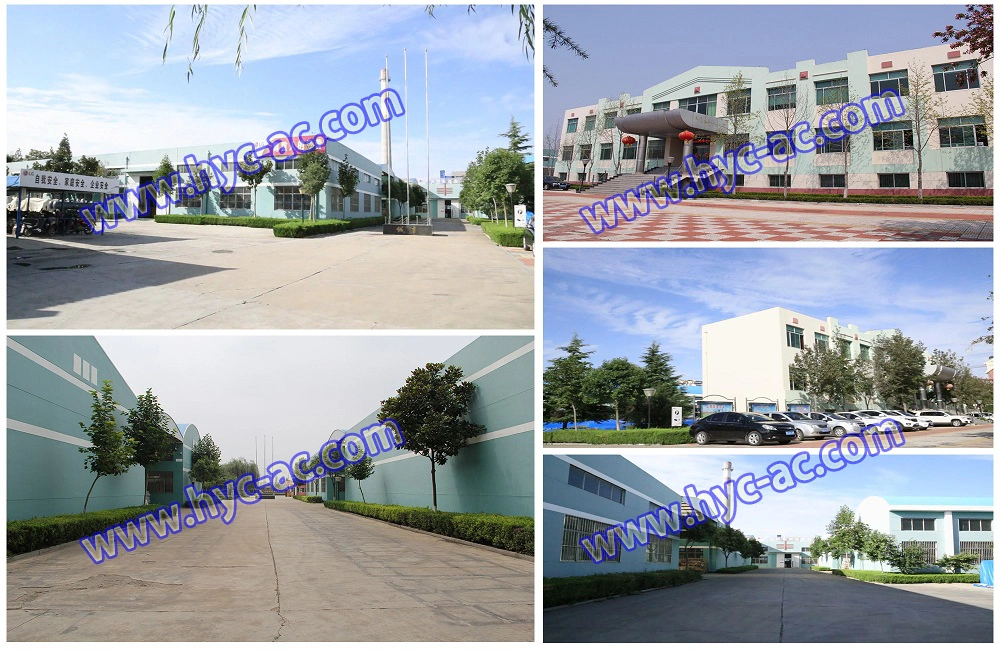 Production machinery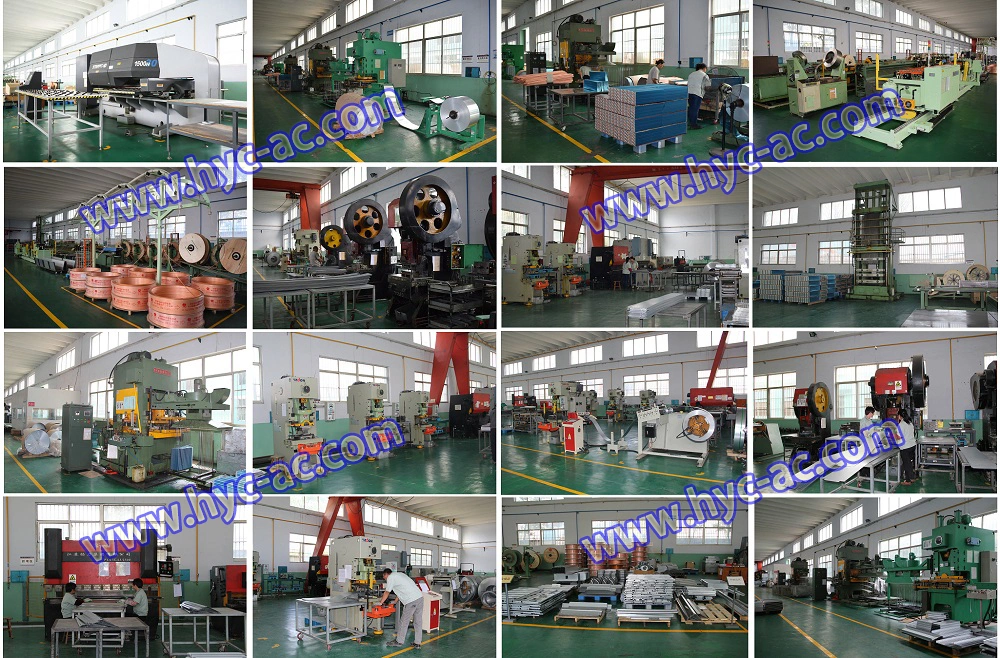 Test lab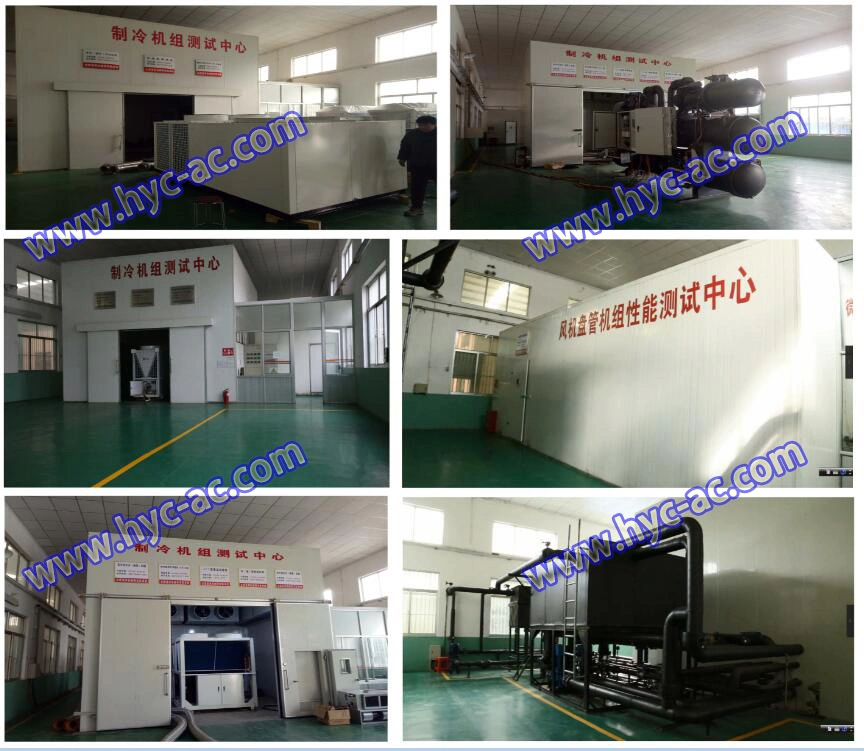 Rooftop packaged unit production line