| | | | | | | | | |
| --- | --- | --- | --- | --- | --- | --- | --- | --- |
| ZTR50 | ZTR20 | ZTR10 | Alventi | ZTR08 | ZTR18 | Toledo | Impero | Zivaro A/T |
| 155/80R13 | 185/70R13 | 195/50R16 | 195/65R15 | 185R14C-8PR | 185/75R16C-8PR | LT235/75R15 | 215/65R16 | 215/70R16 |
| 155/70R13 | 205/70R15 | 205/50ZR16 | 205/65R15 | 195R14C-8PR | 195/75R16C-8PR | LT265/75R16 | 225/65R17 | 225/70R16 |
| 165/70R13 | 215/65R16 | 225/50ZR16 | 205/60R16 | 195R15C-8PR | 205/75R16C-8PR | 245/75R16 | 235/65R17 | 225/65R17 |
| 175/70R13 | 195/60R14 | 205/50ZR17 | 205/60ZRF16 RFT | | 215/75R16C-8PR | 235/70R16 | 255/65R17 | 265/65R17 |
| 165/70R14 | 205/60R15 | 205/50ZRF17 RFT | 215/60R16 | | 195/70R15C-8PR | 245/70R16 | 265/65R17 | 265/60R18 |
| 175/70R14 | 175/55R15 | 225/50ZR17 | 225/60R16 | | 215/70R15C-8PR | 265/70R16 | 235/65R18 | 265/50R20 |
| 185/70R14 | 185/55R15 | 225/50ZRF17 RFT | 195/55R15 | | 225/70R15C-8PR | 275/65R17 | 235/60R16 | LT215/85R16-10PR |
| 195/70R14 | 185/55R16 | 205/45ZR16 | 195/55ZR16 | | 215/65R15C-6PR | | 215/60R17 | LT235/85R16-10PR |
| 165/65R13 | | 205/45ZR17 | 195/55RF16 RFT | | 195/65R16C-8PR | | 225/60R17 | LT235/80R17-10PR |
| 155/65R14 | | 205/45ZRF17 RFT | 205/55ZR16 | | 205/65R16C-8PR | | 235/60R17 | LT215/75R15-6PR |
| 165/65R14 | | 225/45ZR17 | 205/55ZRF16 RFT | | 215/65R16C-8PR | | 225/60R18 | LT235/75R15-8PR |
| 175/65R14 | | 225/45ZRF17 RFT | 215/55ZR16 | | 225/65R16C-8PR | | 235/60R18 | LT235/75R15-6PR |
| 175/65R14 | | 245/45ZR17 | 225/55ZR16 | | 235/65R16C-8PR | | 255/60R18 | LT225/75R16-10PR |
| 185/65R14 | | 205/40ZR17 | 225/55ZRF16 RFT | | | | 265/60R18 | LT245/75R16-10PR |
| 175/65R15 | | 245/40ZR17 | 205/55ZR17 | | | | 275/60R20 | LT265/75R16-10PR |
| 185/65R15 | | | 205/55RF17 RFT | | | | 235/55ZR17 | LT285/75R16-10PR |
| 165/60R14 | | | 215/55ZR17 | | | | 215/55R18 | LT245/75R17-10PR |
| 185/60R14 | | | 225/55ZR17 | | | | 235/55R18 | LT235/70R16-6PR |
| 175/60R15 | | | 225/55ZRF17 RFT | | | | 235/55ZRF18 RFT | LT245/70R16-10PR |
| 185/60R15 | | | 235/55ZR17 | | | | 255/55ZR18 | LT265/70R16-10PR |
| 195/60R15 | | | 225/55ZR18 | | | | 255/55RF18 RFT | LT245/70R17-10PR |
| | | | 195/50R15 | | | | 225/55R19 | LT265/70R17-10PR |
| | | | 205/50ZR17 | | | | 235/55ZR19 | LT285/70R17-10PR |
| | | | 205/50ZRF17 RFT | | | | 235/55RF19 RFT | LT265/70R18-10PR |
| | | | 215/50ZR17 | | | | 245/55ZR19 | LT275/70R18-10PR |
| | | | 225/50ZR17 | | | | 255/55R19 | LT275/65R18-10PR |
| | | | 225/50ZRF17 RFT | | | | 235/55ZR20 | LT275/65R20-10PR |
| | | | 235/50ZR17 | | | | 255/55R20 | LT265/60R20-10PR |
| | | | 195/45R16 | | | | 225/50ZR18 | LT285/60R20-10PR |
| | | | 215/45ZR16 | | | | 225/50ZRF18 RFT | 31*10.5R15LT-6PR |
| | | | 205/45ZR17 | | | | 235/50ZR18 | |
| | | | 205/45ZRF17 RFT | | | | 235/50ZRF18 RFT | |
| | | | 215/45ZR17 | | | | 245/50ZR18 | |
| | | | 225/45ZR17 | | | | 245/50ZRF18 RFT | |
| | | | 225/45ZRF17 RFT | | | | 235/50ZR19 | |
| | | | 235/45ZR17 | | | | 255/50ZR19 | |
| | | | 225/45ZR18 | | | | 255/50ZRF19 RFT | |
| | | | 225/45ZRF18 RFT | | | | 265/50ZR19 | |
| | | | 235/45ZR18 | | | | 235/50ZR20 | |
| | | | 245/45ZR18 | | | | 245/50ZR20 | |
| | | | 245/45ZRF18 RFT | | | | 275/50R20 | |
| | | | 255/45ZR18 | | | | 255/45ZR19 | |
| | | | 255/45ZRF18 RFT | | | | 285/45ZR19 | |
| | | | 225/45ZR19 | | | | 245/45ZR20 | |
| | | | 225/45ZRF19 RFT | | | | 275/45ZR20 | |
| | | | 235/45ZR19 | | | | 245/40ZR20 | |
| | | | 235/45RF19 RFT | | | | 275/40ZR20 | |
| | | | 245/45ZR19 | | | | 275/40ZRF20 RFT | |
| | | | 245/45ZRF19 RFT | | | | 275/40R22 | |
| | | | 255/45ZR20 | | | | 315/35ZR20 | |
| | | | 265/45ZR20 | | | | 315/35ZRF20 RFT | |
| | | | 215/40ZR17 | | | | 295/35ZR21 | |
| | | | 215/40ZR18 | | | | 265/35ZR22 | |
| | | | 215/40ZRF18 RFT | | | | 285/35ZR22 | |
| | | | 225/40ZR18 | | | | | |
| | | | 225/40ZRF18 RFT | | | | | |
| | | | 235/40ZR18 | | | | | |
| | | | 245/40ZR18 | | | | | |
| | | | 245/40ZRF18 RFT | | | | | |
| | | | 255/40ZR18 | | | | | |
| | | | 255/40ZRF18 RFT | | | | | |
| | | | 225/40ZR19 | | | | | |
| | | | 225/40ZRF19 RFT | | | | | |
| | | | 235/40ZR19 | | | | | |
| | | | 245/40ZR19 | | | | | |
| | | | 245/40ZRF19 RFT | | | | | |
| | | | 255/40ZR19 | | | | | |
| | | | 255/40ZRF19 RFT | | | | | |
| | | | 275/40ZR19 | | | | | |
| | | | 275/40ZRF19 RFT | | | | | |
| | | | 245/40ZR20 | | | | | |
| | | | 245/40ZRF20 RFT | | | | | |
| | | | 215/35ZR18 | | | | | |
| | | | 255/35ZR18 | | | | | |
| | | | 255/35ZRF18 RFT | | | | | |
| | | | 265/35ZR18 | | | | | |
| | | | 215/35ZR19 | | | | | |
| | | | 225/35ZR19 | | | | | |
| | | | 235/35ZR19 | | | | | |
| | | | 245/35ZR19 | | | | | |
| | | | 255/35ZR19 | | | | | |
| | | | 255/35ZRF19 RFT | | | | | |
| | | | 275/35ZR19 | | | | | |
| | | | 275/35ZRF19 RFT | | | | | |
| | | | 245/35ZR20 | | | | | |
| | | | 255/35ZR20 | | | | | |
| | | | 275/35ZR20 | | | | | |
| | | | 275/35ZRF20 RFT | | | | | |
| | | | 255/30ZR19 | | | | | |
| | | | 265/30ZR19 | | | | | |
| | | | 275/30ZR19 | | | | | |
| | | | 275/30ZR20 | | | | | |
| | | | 285/30ZR20 | | | | | |
| | | | 275/30ZR21 | | | | | |
| | | | | | | | | |
| --- | --- | --- | --- | --- | --- | --- | --- | --- |
| FORTRAK M/T | Antarctica 5 | Antarctica 6 | Antarctica 8 | Antarctica Ice | Antarctica Sport | Active 4S | ActivePower 4S | DURA++ |
| 33x12.50R18LT-10PR | 155/80R13 | 215/70R16 | 195/70R15C-8PR | 205/70R15 | 215/70R16 | 165/70R14 | 195/70R15C | 165/70R13 |
| 33x12.50R20LT-10PR | 155/70R13 | 245/70R17 | 205/70R15C-8PR | 225/70R16 | 265/70R17 | 175/70R14 | 195/65R16c | 175/70R13 |
| 35X12.50R17LT-10PR | 165/70R14 | 235/65R17 | 225/70R15C-8PR | 235/70R16 | 215/65R17 | 155/65R14 | 205/65R16c | 175/65R14 |
| 35X12.50R18LT-10PR | 175/70R14 | 245/65R17 | 195/65R16C-8PR | 245/70R16 | 225/65R17 | 175/65R14 | 215/65R16c | 185/65R14 |
| 35X12.50R20LT-10PR | 155/65R13 | 215/60R17 | 205/65R16C-8PR | 265/70R16 | 235/65R17 | 185/65R15 | 225/65R16c | 185/60R14 |
| LT285/65R18-10PR | 155/65R14 | 235/55R17 | 215/65R16C-8PR | 175/65R14 | 265/65R17 | 195/65R15 | 235/65R16c | |
| | 175/65R14 | 255/55R18 | 235/65R16C-8PR | 185/65R14 | 215/60R17 | 215/65R16 | | |
| | 185/65R14 | | | 185/65R15 | 225/60R17 | 185/60R15 | | |
| | 175/65R15 | | | 195/65R15 | 265/60R18 | 195/60R15 | | |
| | 185/65R15 | | | 205/65R15 | 275/60R20 | 205/60R16 | | |
| | 195/65R15 | | | 205/65R16 | 255/55R18 | 235/60R18 | | |
| | 205/65R15 | | | 215/65R16 | 225/55R19 | 185/55R15 | | |
| | 215/65R16 | | | 185/60R15 | 275/55R20 | 195/55R15 | | |
| | 185/60R14 | | | 195/60R15 | 285/50R20 | 195/55R16 | | |
| | 185/60R15 | | | 205/60R16 | 275/50R21 | 205/55R16 | | |
| | 195/60R15 | | | 215/60R16 | 235/45R18 | 215/55R16 | | |
| | 205/60R16 | | | 225/60R16 | 245/45R20 | 215/55ZR17 | | |
| | 215/60R16 | | | 195/55R16 | 275/40R20 | 225/55ZR17 | | |
| | 185/55R15 | | | 205/55R16 | 315/35R20 | 195/50R15 | | |
| | 195/55R15 | | | 215/55R16 | LT225/75R16-10PR | 205/50ZR17 | | |
| | 195/55R16 | | | 215/55R17 | LT245/75R16-10PR | 225/50R17 | | |
| | 205/55R16 | | | 225/55R17 | LT265/70R17-10PR | 225/45R17 | | |
| | 215/55R16 | | | 225/50R17 | 235/65R16C-8PR | | | |
| | 225/55R16 | | | 225/45R17 | 235/65R16C-10PR | | | |
| | 205/55R17 | | | 245/45R18 | | | | |
| | 215/55R17 | | | 225/40R18 | | | | |
| | 225/55R17 | | | | | | | |
| | 205/50R17 | | | | | | | |
| | 215/50R17 | | | | | | | |
| | 225/50R17 | | | | | | | |
| | 195/45R16 | | | | | | | |
| | 225/45R17 | | | | | | | |
| | 245/45R18 | | | | | | | |
| | 225/40R18 | | | | | | | |
TYRE'S PATTERN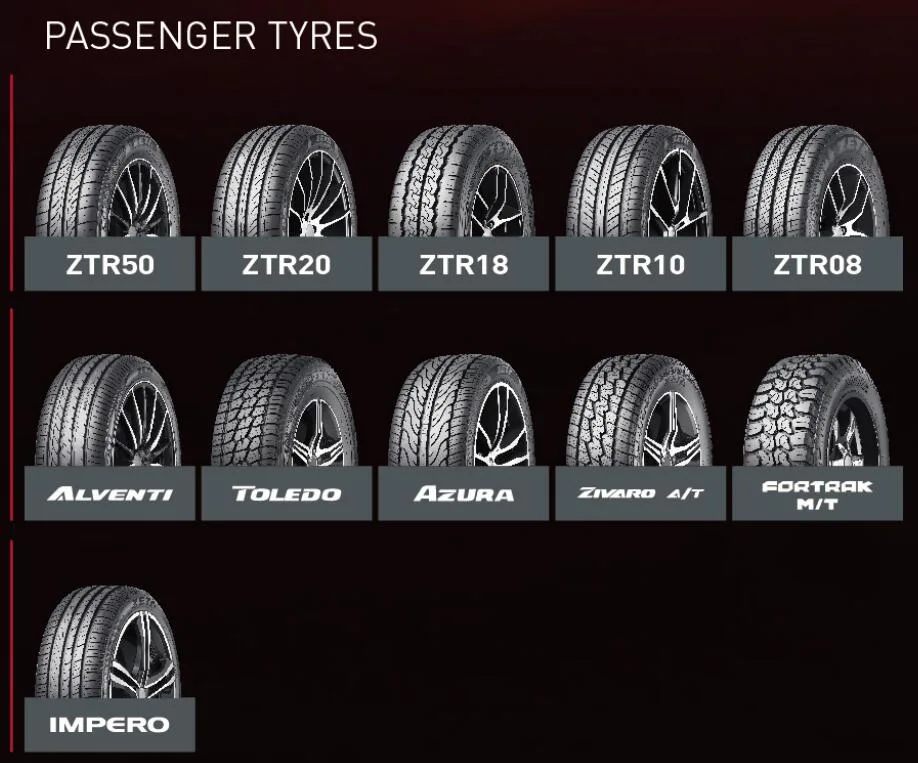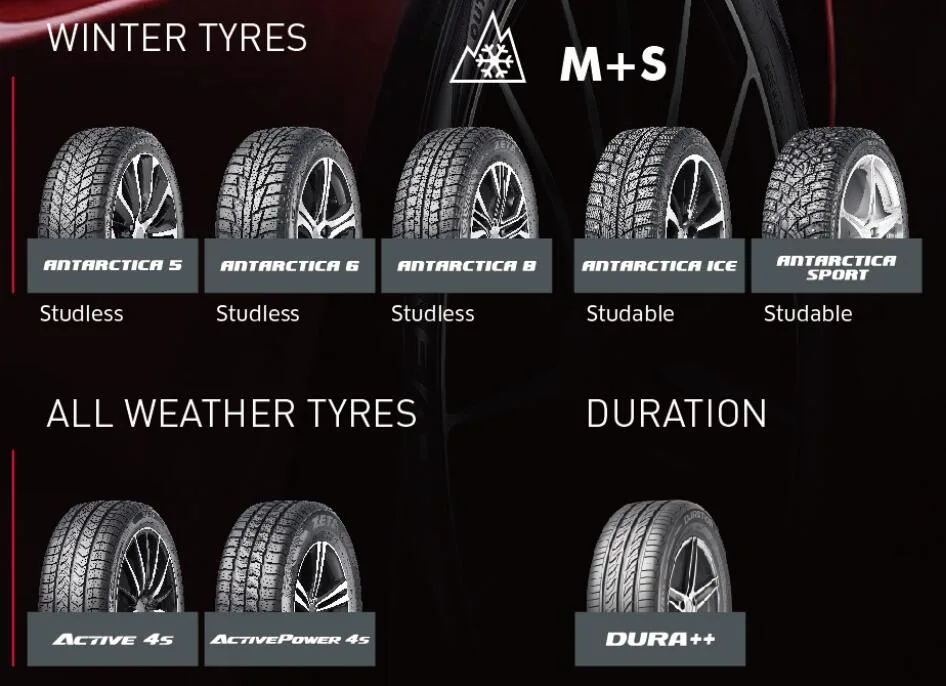 OUR CERTIFICATIONS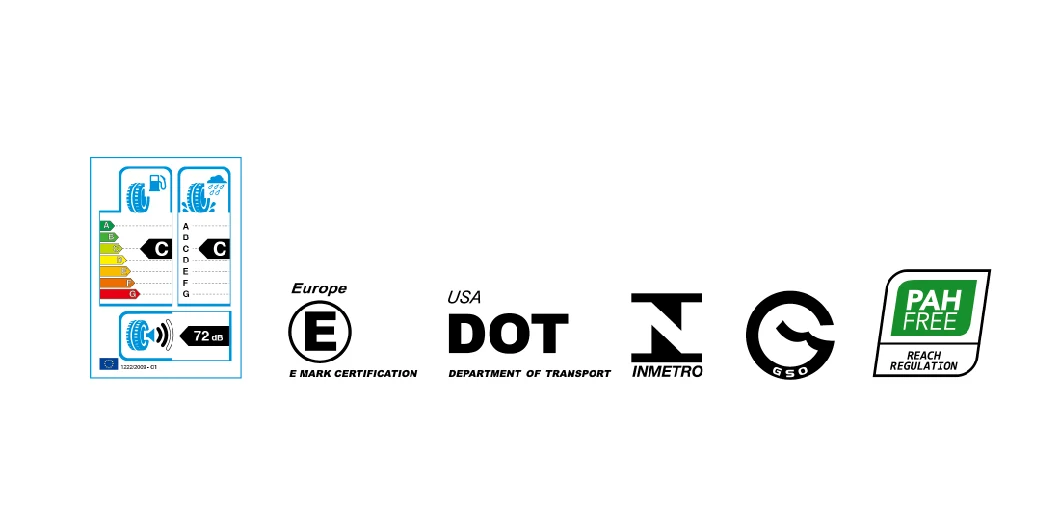 ZETA FACTORY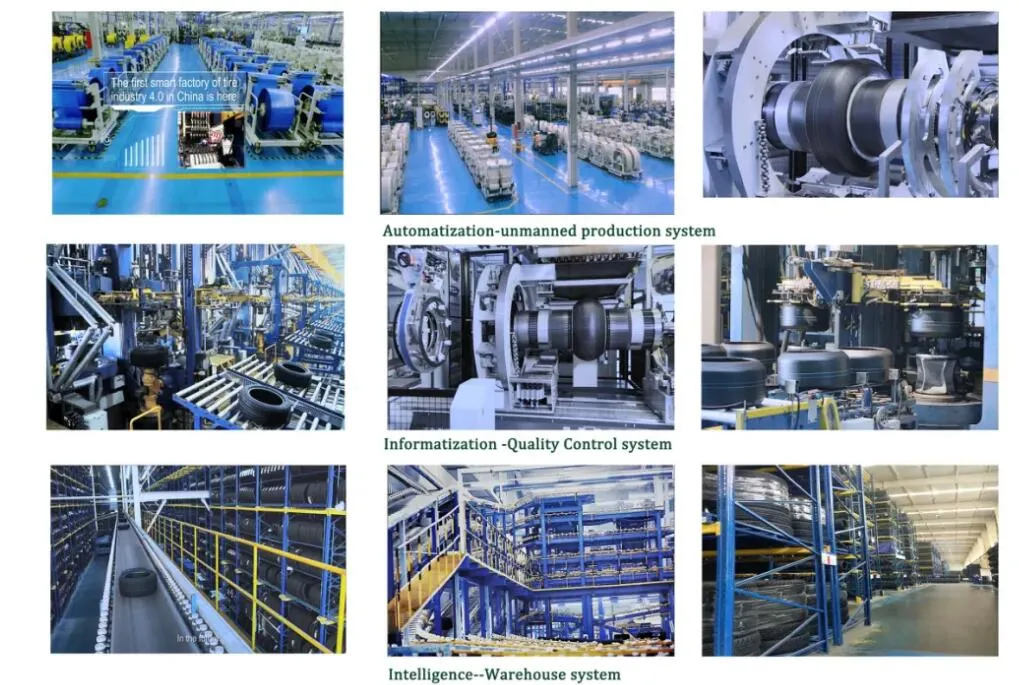 STORAGE STRENGTH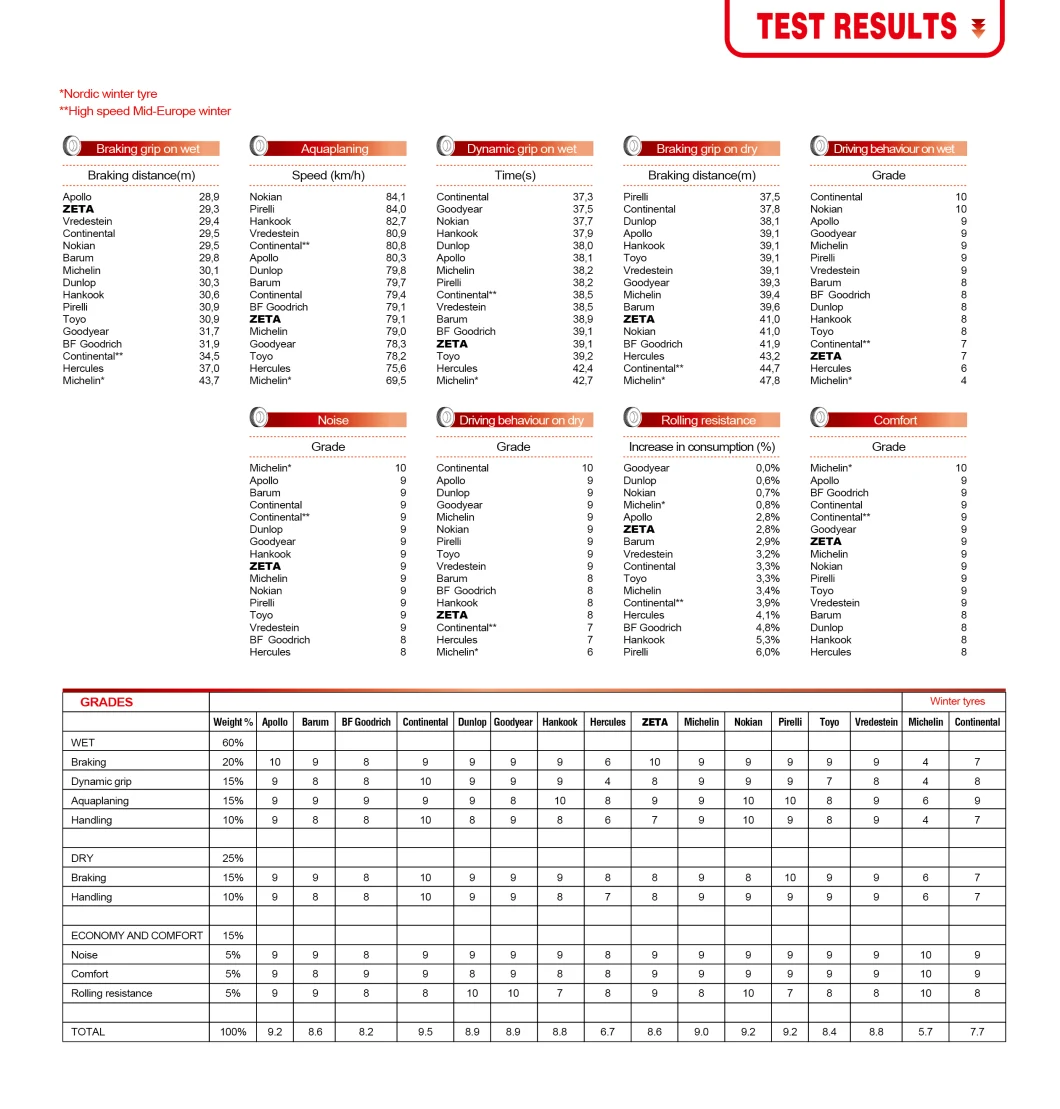 GLOBAL EXHIBITION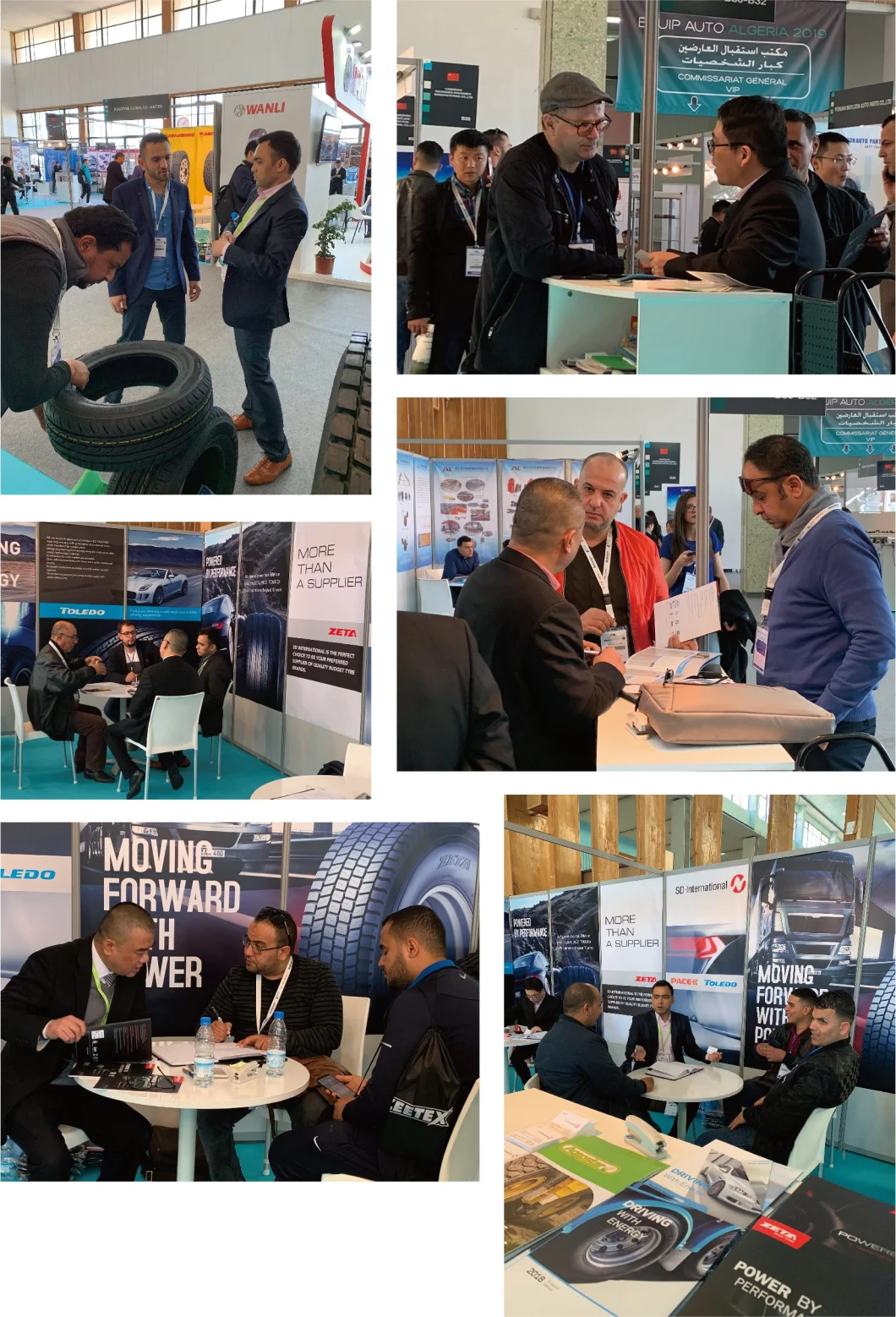 1.Effective invertory, availability with more than 300 sizes, 20000 PCS in stock to guarantee tires ship immediately

2. Market protection support, we will give 100% market and prices support once exclusive agent are confirmed

3. Complete system of certification: All tires are certificated with DOT, ECE, REACH and Emark.

4. ZETA brand is a premium brand from our portfolio, we offer quality warranty for life service.

5. ZETA Brand is well received by the markets since launched, we are selling into 89 counties across the world, and we are shipping 150 containers per month for the moment.